Young Progressive Challenges 8-year Incumbent in the State House Race for District 3
On May 26th, 33-year-old Progressive Democrat, Shannon Matson, entered the District 3 State House of Representatives race against four-term incumbent, Richard Onishi. Matson, born in Honokaʻa, current resident of Hawaiian Acres, will face Onishi in the August 8th primary.
Matson's platform is that of Progressive Democrats who are challenging incumbent establishment Democrats nationwide, with Alexandria Ocasio-Cortez the most notable and successful example of this movement. Matson supports positions on issues like passing a living wage bill, Medicare-for-All and the Green New Deal, which catapulted AOC to fame. Matson's ideas on how these and other policies can be actualized in her district can be found at electshannonmatson.com. Although Matson was prepared to adopt the standard Progressive ground game that promotes door-to-door canvassing as a sure way to gain votes, the pandemic put a serious damper on that strategy.
"Of course I'm disappointed that I haven't been out there meeting voters face-to-face at their doors," said Matson when asked how COVID-19 has affected her campaign strategy. "Reaching out to people and connecting with them is the essence of a grassroots campaign, and it's especially important when people feel they've been neglected, but we are using social media to get the word out about my platform, and I am keeping up with my community volunteer work to help link people to food and resources and show how committed I am to serving my community."

Shannon Matson
Matson serves on the board of Recycle Hawai'i and is active in the local Democratic Party as the former Vice Chair for the Hawai'i County Democrats.
Matson's decision to run for office is based on her strong desire to represent her community over those of corporate interests. She has vowed to take no corporate donations, and is agreeing to campaign expenditure limits, as well as seeking partial public funding through meeting the requirements of taking $100 or less donations from Hawai'i residents.
As a graduate of the Hawai'i Alliance for Progressive Action's first Kuleana Academy in 2016, Matson received leadership training critical to mounting a successful political campaign. Kuleana Academy is supported by foundations seeking to move environmental and social justice advocates from the frontlines of these issues into the halls of power. Matson wasn't sure if she would make her contribution to the Progressive movement as a candidate herself until she took a hard look at the conditions in her district and the continuous failure of state government to improve the standard of living for the thousands of people who live off-grid, without power and have no county water. One of Matson's priorities as an elected official will be to jumpstart the process of providing potable water to everyone in District 3 by securing funding for a water development plan that will assess the various options available to the area's residents.
"I was recently volunteering at a food distribution event held at Mountain View Park where families were also coming to fill their water from the county spigots. The entire time we were there, people were lining up to fill their jugs. I never felt this issue so deeply before. I'm running to make a difference. One of the biggest ways I believe I can help District 3 families is getting a full assessment of the water access options available to them and implementing the best options district-wide. This will help create jobs and most importantly make sure all families have reliable and easy access to clean water."

Shannon Matson
For more information about Shannon Matson or her positions, call (808)937-3037 or visit her website https://electshannonmatson.com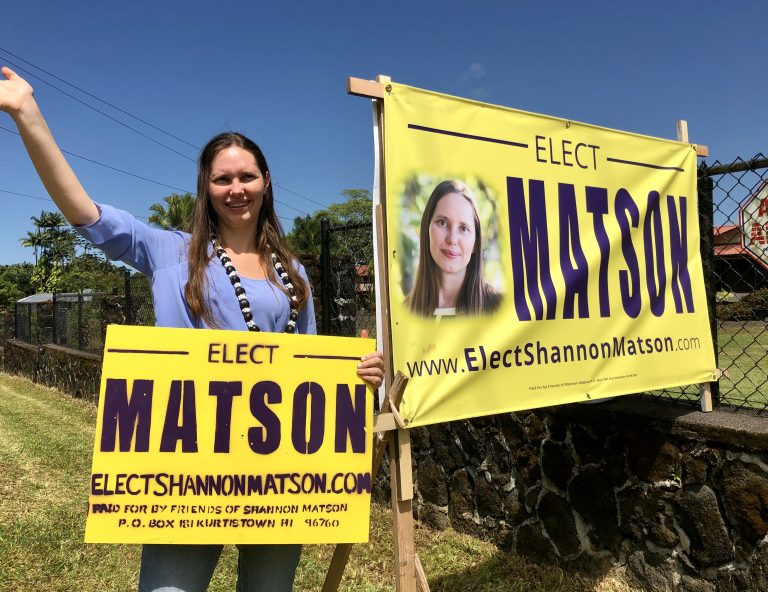 Here's What We're Hearing from Supporters Like You
"Shannon cares deeply about our community and it shows in the way she endlessly volunteers to get food to the people and teaches her children to love and protect our land and oceans! She's a leader in our community and I trust her to represent us well at the State Legislature."
"Shannon Matson has been the most helpful candidate in district 3. Her efforts have had a cascading effect of more people getting involved and doing what they can to support folks in need in Puna and Hilo."
"Shannon has already proven herself to be of great service to our community. She is a business owner, mother, and advocate for those who need one the most. She is also smart, collaborative, and moral. She has all the qualities and experience necessary to be the best representative for our district."
"Shannon Matson is an active supporter of the issues that are important to me as a farmer in Pana'ewa and as a native Hawaiian. I ask for your support to elect her as our next District 3 House of Representatives."